How to receive free calls via VoIP/SIP
Don't pay a penny for your incoming calls
For just £1 per month you can add a softphone extension to your virtual phone number. This can be used either on your mobile smartphone, or PC or laptop or existing SIP enabled hardware to make outbound calls using your new virtual phone number as your outbound caller ID and receive calls to your number too!
To add a VOIP/SIP extension to your Number People account, simply log into your customer portal and click on "Add / Manage Services" then click on "VoIP/SIP".  Here you just simply follow the on-screen prompts to set up the softphone extension.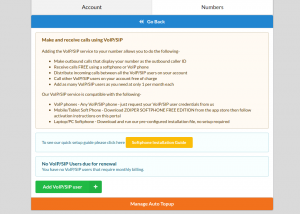 The softphone extension can be used on with any of the below devices;
On a SIP / VoIP enabled phone

Via a mobile app

On a standard phone with an ATA adapter

On a PC or Laptop
For more information please see our VoIP/SIP page 
Once you have set up the extension, you can immediately use it make calls using your Number People telephone number as your outbound caller ID.  
You can also use this to receive your incoming calls via this extension – meaning that you no longer have to pay for call forwarding to your mobile or landline.
To activate this, just click on the "Numbers" tab within your customer portal.  Then click on the number you wish to manage. You can then click on "forward calls to" and add your VoIP/SIP user/s as the forwarding destination point/s.   Calls then received this way will NOT incur a pence per minute forwarding charge.

*If you are using a freephone 0800 number you will always be charged 7.5p per minute for the incoming leg of the call, even if forwarding into a VoIP/SIP extension.